Asset Management Software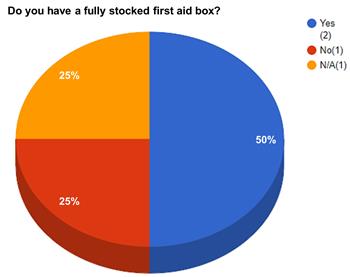 Inspections audits are carried out to check that what is being inspected is being used or is in place as it was intended to be. Often these inspections are carried out by a third party consultancy.
The audits need to be designed so that the questions asked give us the answers needed.
This will enable compliance to be measured effectively as well as gaining information about the inspection that can be used in further analytics. E.g. Comparing depot performance or seeing the numbers of times a different answer has been selected.
Inspection Software
These are some of the typical types of Inspection Audits carried out by our customers:
Approved Meter Installer
Car Safety Check
COSHH assessment
COVID-19 Safety Checks
Delivered Quality Checklist
Engineer Site Audit
Equipment Audit
Final Commissioning Audit Report
Fire and Safety Checks
Health & Safety Audit
Improvement Audit
Ladder / Stepladder Inspection Checklist
Plastering Works – Quality Check / Inspection
Safety, Health and Environment Audit
Site Inspection – Workplace Transport Checklist
Site SHEQ Inspection
Technical Shift Audit – Line Walk
Quality inspection
Vehicle Checklist
Workshop Inspection
Workplace Noise Audit
Inspection & Asset Management Demo
To access and use the Inspection & Asset Management specific demo, please use the details below in the log in box at the top of this page.
Username – Inspection
Password – demo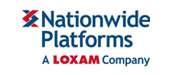 Recommended For Businesses With Multiple Locations To Manage
INSPECTION
"As a national rental company with 38 locations we carry out several audits across all sites using a traditional paper audit system, this was time consuming and difficult to manage, especially trying to 'close out' the actions.

We looked at various options to improve efficiency and discovered Formability. Paul and the team looked at our current procedures and helped us to create bespoke audits for the business which can be accessed immediately via a smartphone or tablet, using their system AuditForm.

Paul and the team are very quick to react to any issues, they are only a phone call away and visit sites when required.

Using Formability's AuditForm has saved Nationwide Platforms time and money. I would highly recommend to any business that has multiple locations to manage."
Chris Blakeley – Regional QHSE Manager,Nationwide Platforms
AuditForm is typically used to ask a series of questions in order to identify non-compliances in standards and practices.
If there are equipment checks to be carried out, in particular to meet LOLER standards, we have another product called OnSiteForm that can be used for this.
OnSiteForm – Site Inspection Software Keeps You On Top Of Safety & Productivity
OnSiteForm is a mobile internet lifting gear inspection software application that efficiently records and manages equipment inspection and many other types of examinations as well.
This leads to us having an efficient data collection and reporting process that makes it easier to carry out lifting equipment testing, thus saving a significant amount of time and effort.
You can use this software system to manage your lifting gear inspections, create a lifting equipment register or perhaps have a bespoke LOLER examination software solution for your server using this lifting inspection software as a base product.
OnSiteForm – Lifting Inspection Software Has Many Powerful Asset Management Features
Conveniently record testing and inspection results on an iPad, IPhone and most Android tablets and smart phones
Allows remote working without an internet connection, users can synchronise when complete 'live' on site with a 3G connection or later as required
View the complete thorough examination inspection history for every individual item of lifting equipment with the examiners name plus the date and time of its inspection
See all assets on a whole site or one location simultaneously be they serviceable, out of date or unserviceable 'blacklisted' items
Use identification and / or descriptions to search for individual items
Provide 'instant' inspection certification reports in pdf form at the touch of a button
Please have a look at our demo site although be aware that the data in this site is refreshed at 3am GMT.
Please check out our engineering audit software page.
Inspection & Asset Management Software
OnSiteForm – Reduces Risk, Saves Time and Money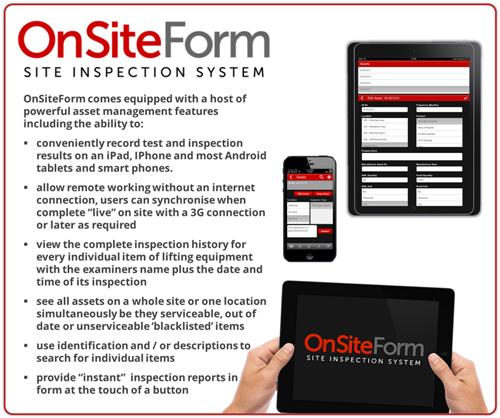 Try A Free Demonstration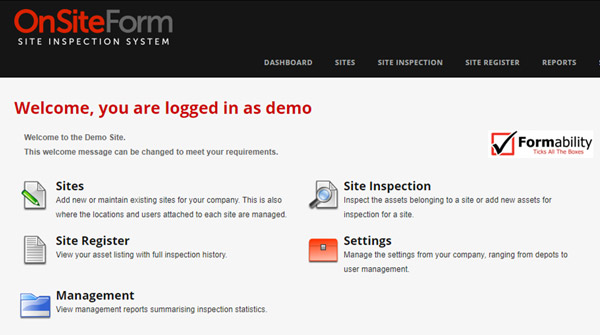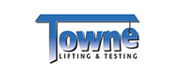 Our customer base has grown exponentially
LIFTING EQUIPMENT TESTING
"Since using the OnSiteForm system, our customer base has grown exponentially and it has become a key selling product for us at Towne's, winning us new and bigger contracts.

The system makes our company look much more professional and has impressed all our current clients.

Our clients find OnSiteForm easy to use and very convenient because they can browse their certification online, 24/7 without having to contact us – it makes their life so much easier."
Steve Harrison – Towne Lifting & Testing

Free Asset Management Software
Simple Asset Management Software
We'd Love To Hear About Your Project?
We pride ourselves on giving good support to our customers.
You can use the adjacent contact form to get in touch with our UK based support desk and we will call you as soon as possible.
If you would like a 30 day free trial, please mention this as well.