Auditing Software & Audit Management Software
AuditForm audit management software reduces risk by immediately reporting non-compliances for action without transposition errors.
It saves time in the collecting and processing of information.
It saves money by enabling auditors to carry out more audits in the same amount of time.
These are the main AuditForm features:
You can write your own audit questions on the Internet.
The audit can contain questions with a wide array of question types including multiple choice, comment boxes and signatures.
Answers to your audit can be collected using Tablets, Smartphones or a web browser.
Auditform auditing software is device agnostic, and once logged in, audits are completed without an Internet connection.
Audits can be collected for multiple locations and analysed across locations.
Non-compliances are highlighted and tracked alongside user commentary and closure details.
Information to be held on a database to allow for the generation of questions, storing audits for review and analysis, and for tracking non-compliances.
The website and mobile application are now available in multiple languages including English, French, Spanish, German, Italian with more to follow.
The text within AuditForm (for any language) can be customised to use your own terminology.
The Internet (web browser) solution can also be used standalone without the need for any handheld devices.
The system can be made to replicate your business organisation structure, regardless of the number of levels involved.
Audits can be tied to specific locations. So a workshop audit could be made to only show up against workshops and not against other locations.
Users are given different access levels against specific locations so visibility and access rules can be flexibly defined.
Audits are scored. Questions are weighted and the system handles several degrees of compliance. The total and possible scores are held alongside the audit.
Non applicable answers reduce the possible score, so percentage compliancy comparisons between locations can be made.
Audit results for locations are measured against each other in a league table.
Overdue outstanding actions can be chased.
A corrective action report and audit details are emailed to recipients chosen by the auditor.
Corrected actions need to be authorised by the auditor before they are closed.
Photographs and signatures captured during the audit will be shown on the web.
The greatest benefit of our Audit Management Software is the reduction of cost and risk.
These are the main AuditForm auditing software benefits:
Saves time – Field trials show that it reduces audit time by at least 40%
Audit findings do not need to be entered again, so more audits can be completed in the same amount of time
Reduces risk – Non compliances are alerted immediately
Data collection is simplified
Audits can be conducted without an Internet connection
Reduces necessary administration
Photographs of non-compliances can be included in the audit
Sign-offs can be collected as part of the audit
The current audit template masters are always used and held in a single location
Reduces/eliminates paperwork
Speeds up the auditing process
Eliminates copying errors
Real-time information always available.
Improves audit quality.
Gives better visibility for both users and management.
Efficient problem resolution.
The right people are informed immediately.
Eliminates paper contamination when conducting audits.
Manage non-compliances in a consistent manner.
Smartphone/Tablet Internet integration.
Please check out our food safety software page.
Other Audit Management Software Requirements?
As well as auditing software, we also build other hand-held solutions and web applications to meet specific customer needs. Call us to discuss your requirements or visit the Formability website.
AuditForm – Reduces Risk, Saves Time and Money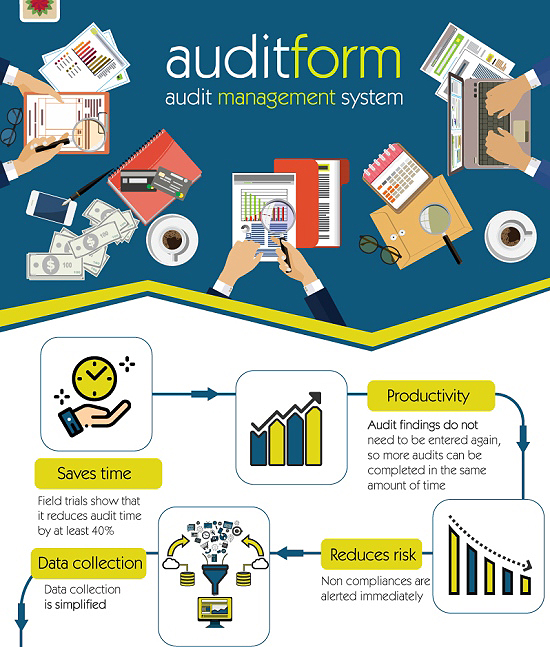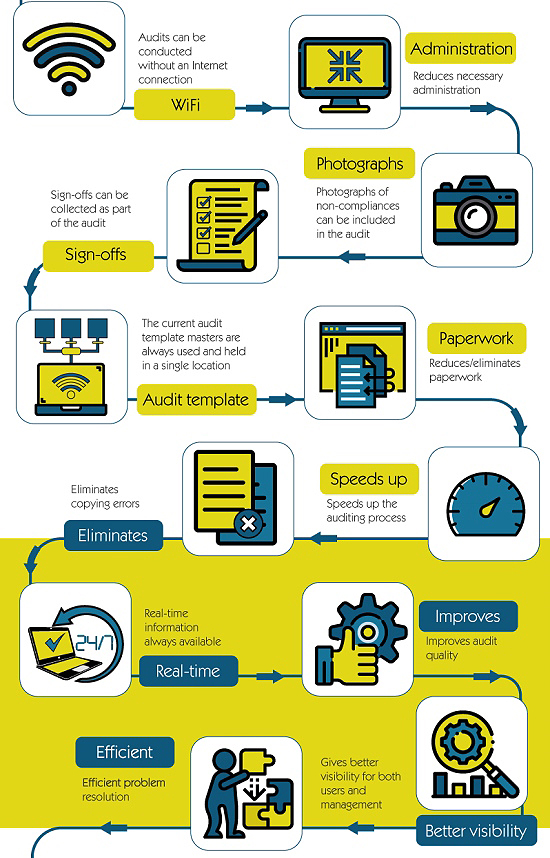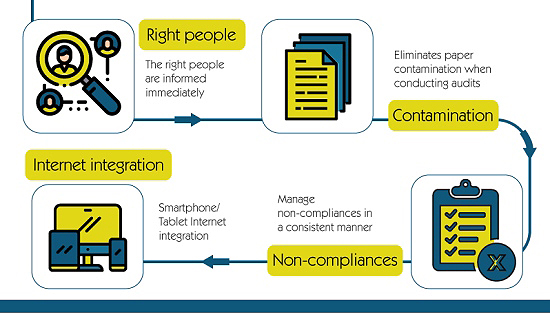 We'd Love To Hear About Your Project?
We pride ourselves on giving good support to our customers.
You can use the adjacent contact form to get in touch with our UK based support desk and we will call you as soon as possible.
If you would like a 30 day free trial, please mention this as well.