Auditform food safety software aligns processes with HACCP principles and the need for identification, control and management of hazards which might compromise the integrity of your food safety management system.
Because the auditing solution is at the heart of critical risk assessments and compliance management, we created an easy to use food safety audit software as a very flexible application which can be tailored to accommodate many different documents, products, users, industry and business processes.
AuditForm food business customers include well known global and UK brand leaders in the food and drinks industry.
AuditForm enables you to plan your auditing programme more effectively and enable optimal allocation of company or its suppliers auditing resources.
It gives food business users part or complete visibility and management control over its auditing processes and enables them to schedule, assign, execute and report and make recommendations on findings from audits to properly identify and reduce non-compliance within their products and processes.
Food Safety Audit Software
Features & Benefits
Cost Savings or improved productivity
Can reduce audit time by at least 40%
Data collection is simplified
Findings & recommendations from audits do not have to be re-entered so additional audits can be undertaken in a similar time frame
Real-time data always available
Reduces/eliminates paperwork
Reduces necessary administration
Quick data retrieval
Easy to make new audits
Reduce risk by improving audit quality
Eliminates copying errors
Non compliances – the right people are immediately informed
Gives better visibility for users & management
Manage non-compliances in an efficient consistent manner
Overdue outstanding actions can be chased
Audit findings & recommendations together with corrective action reports and findings are then emailed to selected recipients by auditing personnel
Corrected actions are authorised by the auditor before they can be closed
Signatures, name and photographs captured in the audit are displayed online
Food Safety Demonstration
To access and use the food safety quality specific demo, please use the details below in the log in box at the top of this page.
Username – FoodSafety
Password – demo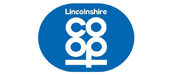 AuditForm Provide Excellent Service Support
RETAIL
"AuditForm has proven to be a great, cost effective solution for Lincolnshire Co-op, having both digitalised and simplified various elements of our compliance functions and support services.

The team are always helpful, friendly and patient – nothing is too much trouble.
Ben Sutton – Health & Safety Manager, Lincolnshire Co-op
AuditForm – Reduces Risk, Saves Time and Money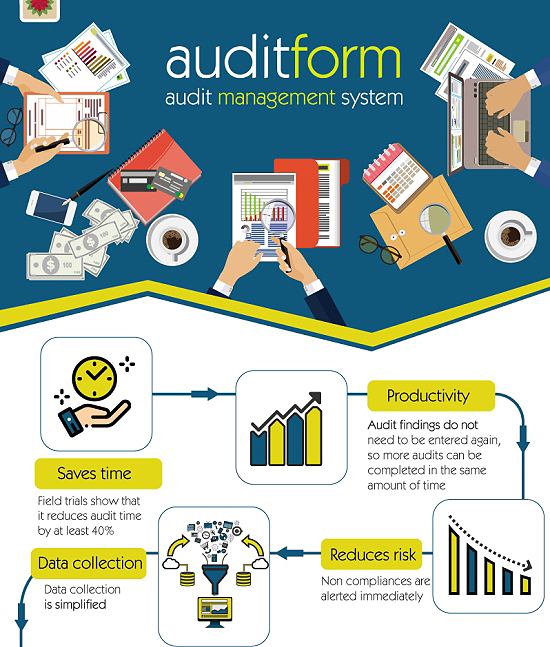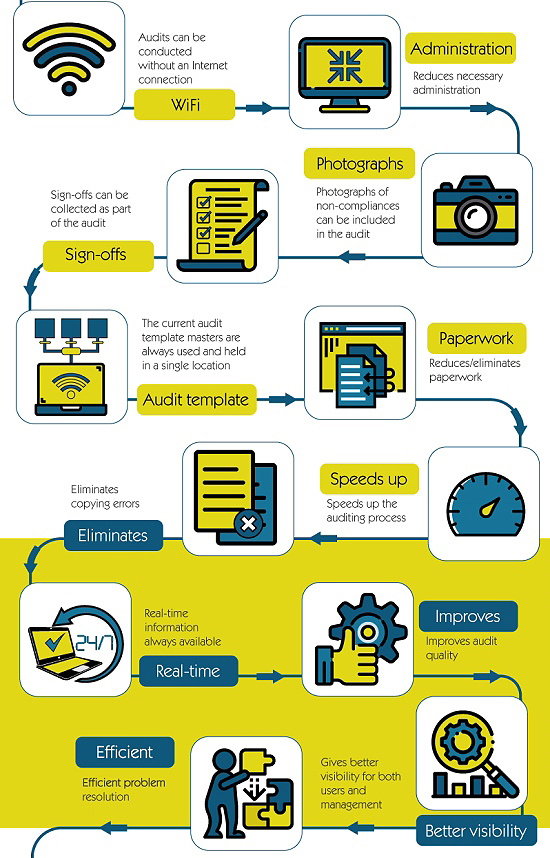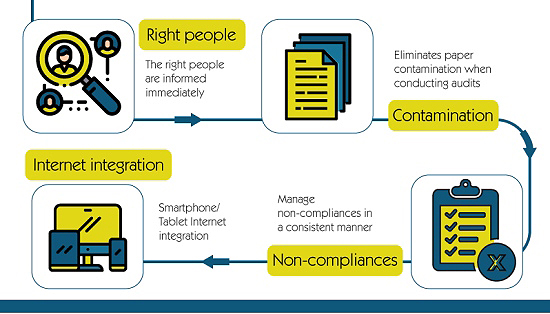 AuditForm Is A Genius App That Ticks All The Auditor's Boxes
One generous Android review gave it 5 out of 5, "Genius piece of software". Very adaptable solution for use in thousands of quality processes, applications and locations. The food safety management software has been 'bespoked' for a specific insurance product and could be adapted to suit many other industries.
AuditForm food safety management software​ enables different aspects of audit data to be collected from any place and analysed across multiple business locations and remote sites. It can track non-compliances in real-time and provide business managers with vastly improved decision making knowledge and control to enable significant reductions in operational risks from audit recommendations.
Simple data collection, real time reporting, no writing, greater productivity
It saves time in the collecting and processing of information and document management. Field trials have demonstrated that data capture using this AuditForm food safety management software saves an individual auditor 2 man days per week when compared with manual methods of data capture and input for the same data.
Vastly improved data collection & reporting
The food safety management software not only increases efficiency and quality through reduced administration, but a single data input reduces risk because non-compliances are immediately reported for remedial action with no transposition errors.
Audits are scored, with "weighting" for more important questions and the system also handles several degrees of compliance.
Image & signature capture
It will also capture, upload and show photographs of problematical issues and signatures from an audit on the web in real time, auto-email alerts and provide internet backup if a mobile device develops a fault on site.
Software adds more management control data
Formability possesses over 10 year's experience developing and supporting a number of different types of food quality management software auditing solution.
The use of a common web based solution means further efficiencies can be made through the follow up and resolution of non-compliances highlighted and tracked alongside recommendations, user commentary and closure details.
Drill down management review tool
Data is uploaded to a consolidated database which means that trends are easy to spot in real time. We've developed a powerful "drill down" information tool which enables management to review trends, implement more timely recommendations and remedial measures and ensure compliance in line with a companies KPIs.
Scalability & rapid deployment across many operations & processes
Full flexibility allowing you to define your own documents, food production process, supplier management, ERP, business structure and user permissions and it can be scaled adapted as required across large company depot or companies facility networks.
AuditForm Makes GFSI Certification Easier
Recommendations from leading food manufacturers achieve this by aligning their product, ERP and business processes with the requirements of one of the four main food safety standards i.e. HACCP, BRC, ISO 22000, FSCC 2200, SQF 2000, IFS, and GFSI standard level requirements 3.4 / 3.5.
AuditForm food safety management software is suitable for a host of quality management system and food safety management system tasks, companies supply chain and product audits including:
Internal Auditing
GMP audits
Quality Manual Policy Audits
External Audit corrective action compliance
Industry Audits
Supplier & Supply Chain Audits
Inventory Control & ERP Auditing
Safety Audits
More information can be found at the Food Standards Agency.
Please check out our health and safety audit software page.
We'd Love To Hear About Your Project?
We pride ourselves on giving good support to our customers.
You can use the adjacent contact form to get in touch with our UK based support desk and we will call you as soon as possible.
If you would like a 30 day free trial, please mention this as well.